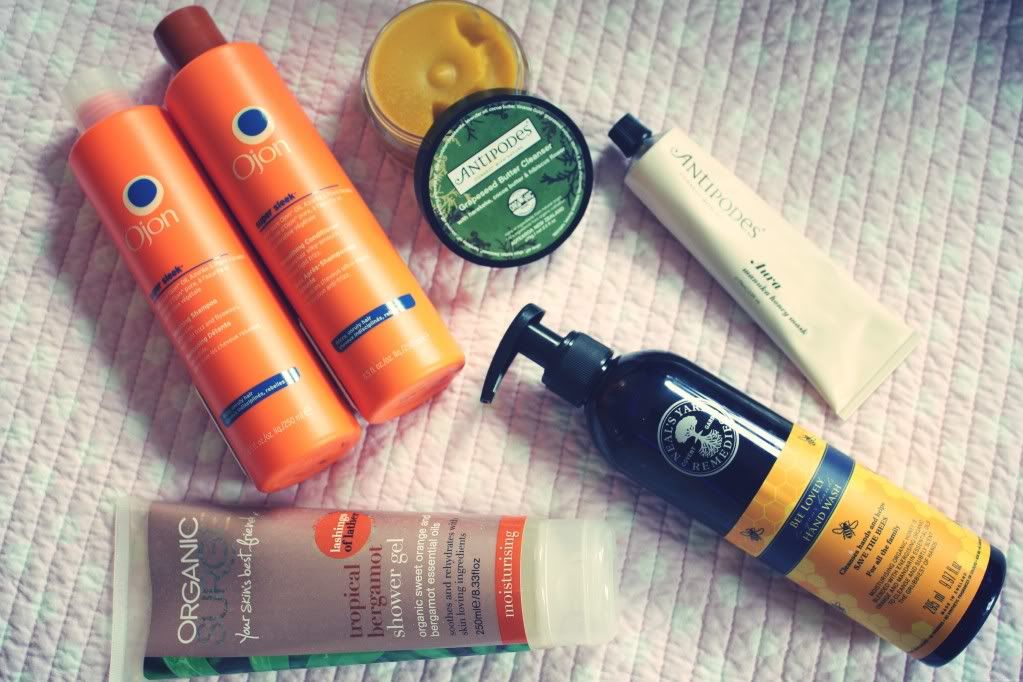 As the title suggests, I've been trying some new bathroom bits recently and I thought I'd report back on how I've got on with them so far.


This has been perched on my sink for a few weeks now and I've been enjoying using it. It leaves your hands more squeaky clean than silky soft, but I'd prefer my hands to be clean and I don't mind using a hand cream afterwards. This is one of the products from Neal's Yard Bee Lovely range which "aims to highlight the alarming decline of our precious pollinators in the UK, by informing, inspiring and empowering people to help fight to save them". Poor little bumble bees. There is also a Bee Balm, Bath & Shower gel and Body lotion in the range.
This is my new obsession and has quickly become one of my all time favourite cleansers. The main ingredients are vinanza grape, blue chamomile and cocao butter.

You just scoop out a small amount with the little spatula provided and it's like the texture of a soft balm but bright yellow. You then rub it onto your face and it quickly softens up and becomes more like an oil. I use this after removing my makeup with Bioderma Crealine H2o and haven't yet tried to remove makeup with it. It goes on yellow and makes you look a little jaundice, but aside from that it's really great and makes my skin feel amazing. Highly recommend this.
Another Antipodes product... sorry I can't help it, they're all so good! I love manuka honey and it's the first thing I reach for when I feel poorly. Hot water, a slice of lemon and a dollop of manuka honey makes everything better! So I wasn't surprised when I tried this mask and loved it. It's a creamy, quite thin consistency and is easy to spread over your face. It feels a little bit like the Origins Drink Up Overnight mask, but this one needs to be washed off after 10-15 minutes. It smells sweet as you'd expect like honey and vanilla, but is not sickly and I really like it. It's a really great mask and hydrates my skin well.
Organic Surge is a really inexpensive brand but is highly recommended by my mum (which means it must be good quality!). This shower gel is really refreshing, smells delicious and leaves my skin feeling squeaky clean (used that word twice now). Because it's so clarifying I sometimes need to use a shower oil or a really moisturising body lotion afterwards. Organic Surge is available at Waitrose supermarkets so it's really easy to find. Oh, did I mention their products are all natural and organic??
Although these do not beat my all time favourite Dry Recovery shampoo and conditioner, I have been really enjoying using these for the days where I wear my hair straight. The formula is sulfate-free which makes it safe to use on coloured and chemically straightened hair. It also includes plant keratin which helps to seal in moisture and seal out the hair-raising effects of humidity. It definitely makes my hair feel smoother and less frizzy. I haven't yet been disappointed by any Ojon products!
Have you tried any of these?
Lily xx